Roberto was born in Argentina in the early 1970s, but considers himself a citizen of the world, having lived and worked all over the globe, spending time in Italy, Germany, Ecuador, USA and the UK.
He is a Chartered Engineer (CEng) specialising in control systems and also holds an MBA.  His Engineering degree in Electronics is the result of a five-and-a-half year programme at Universidad Nacional de San Juan (UNSJ).
During his final years at university, Roberto combined his studies with part-time work as a software developer in an electrical engineering consultancy firm.  Following his graduation in the late nineties, he co-founded Inar with the aim of becoming a leading provider of global software engineering services.  Inar continues to operate to this day, focusing on sustainable engineering solutions.
Roberto emigrated to Italy in 2002 with his wife and two children.  It was there he worked as a control systems engineer while continuing to develop other entrepreneurial ventures in his spare time. In 2008 he founded a part-time wholesale business in domestic LED lighting at a time when such fixtures were still considered a luxury item.  The experience taught him a lot about running a business before he ceased operations prior to relocating to the UK in 2011.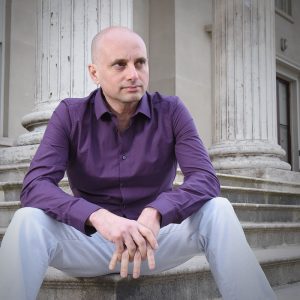 Settling in Staffordshire, Roberto continued to work as a Control Systems Engineer and then Business Development Engineer for one of the UK's largest independent systems integrators.  He later achieved Chartered Engineer status and completed a Masters Degree in Business Administration from Staffordshire University.
In 2018, Roberto took the plunge and left his position in order to create Inar Group Ltd.  Through Inar Group, Roberto leads the development of business ideas such as KronoVisor, but also provides consultancy services in the control systems arena to major global companies.  In addition, Roberto continues to support Inar Sustainable Engineering in Argentina by growing its links with international suppliers and clients.
Roberto is an advocate of Lean and sustainable enterprise, preferring to undertake business initiatives with the aim of improving society and the environment.
Away from business, Roberto is an active member of his local community – he participates in his local speed watch and related activities to help improve safety and prevent crime.  He enjoys keeping fit through zumba classes at his local gym and when opportunity allows he loves to travel, exploring new places and sampling the local cuisine.